DYOM » Missions » S.A. Noire - Old Reece
S.A. Noire - Old Reece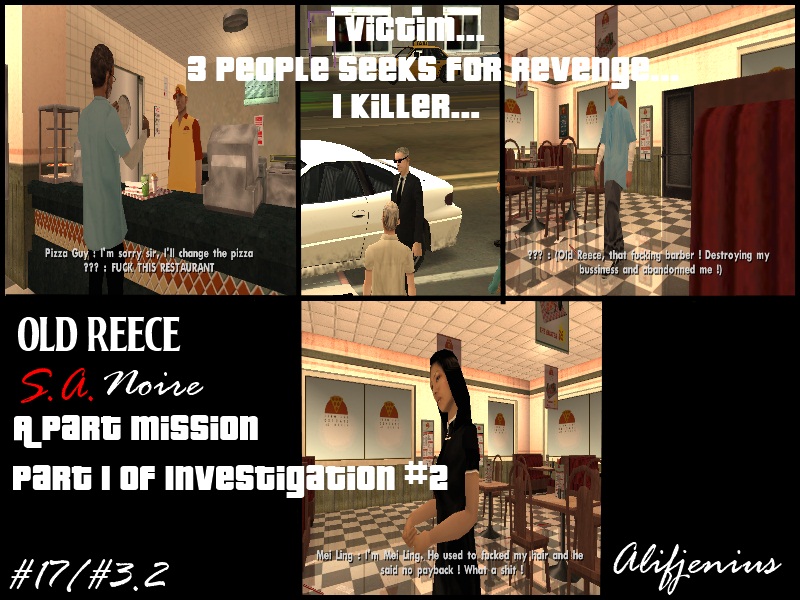 This is a mission from storyline : S.A. Noire which is now in Chapter 3

Fulfill their hunger need, John & Ringo visit a restaurant in Financial District of San Fierro. Their dinner doesn't go well when an old barber name Reece Bronson breaking the peace. When John and Ringo finish their dinner, something terrible happened...

Play this investigation mission and solve the case ! This is a part mission so be patience for part 2

If you don't know what is S.A. Noire and wanna know more, please visit this link (please register to this forum. We'll welcome you) : http://www.gtaforums.com/index.php?showtopic=485561

Thank you for the attention and enjoy the mission !
Download
Upload Statistics
Last Update

Oct 17 '11

Views

2087

Downloads

1548

Trailers

0

Comments

0
Mission Statistics
ReadOnly

yes

Objectives

52

Actors

43

Cars

6

Pickups

0

Objects

39
Rating(0):
Not rated yet.
Log in add your rate
Trailers
No trailers yet, be the first to create one this mission
Log in to propose your own trailer

Comments
No comments yet, be the first to comment on this mission
Log in to add your own comment