DYOM » Missions » S.A. Noire - Please, Mr. Barber !
S.A. Noire - Please, Mr. Barber !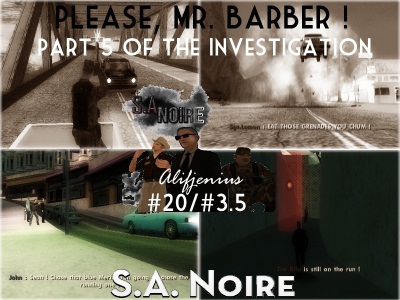 This is a mission from storyline : S.A. Noire which is now in Chapter 3

The mission begin with a dream from civil war. Suddenly, Sean woke John up and told him to interogate the last suspect. Well, the investigation going smoothly at the beginning, but suddenly, Rifas broke the peace...

If you wanna know more about S.A. Noire, just follow this link. You don't have to register to see the topic, but we suggest you to register (people at the forum are friendly, so we'll welcome you) : http://www.gtaforums.com/index.php?showtopic=485561

Enjoy the mission
Download
Upload Statistics
Last Update

Oct 17 '11

Views

939

Downloads

1506

Trailers

0

Comments

0
Mission Statistics
ReadOnly

yes

Objectives

59

Actors

64

Cars

24

Pickups

1

Objects

33
Rating(0):
Not rated yet.
Log in add your rate
Trailers
No trailers yet, be the first to create one this mission
Log in to propose your own trailer

Comments
No comments yet, be the first to comment on this mission
Log in to add your own comment