DYOM » Members » nandack
Profile of nandack
GTA SA Lover, Mod Freaks. Learning to make my own mission.
Twitter:
@NandackCahyo
My mission always go to the phase of Introduction - Mission - Tweaking - Another Tweaking - End. But not always like that, just use that method.
Maintain objective and cutscene for better gameplay and stories.
First Uploaded storyline:
Queen of Road - Chapter 1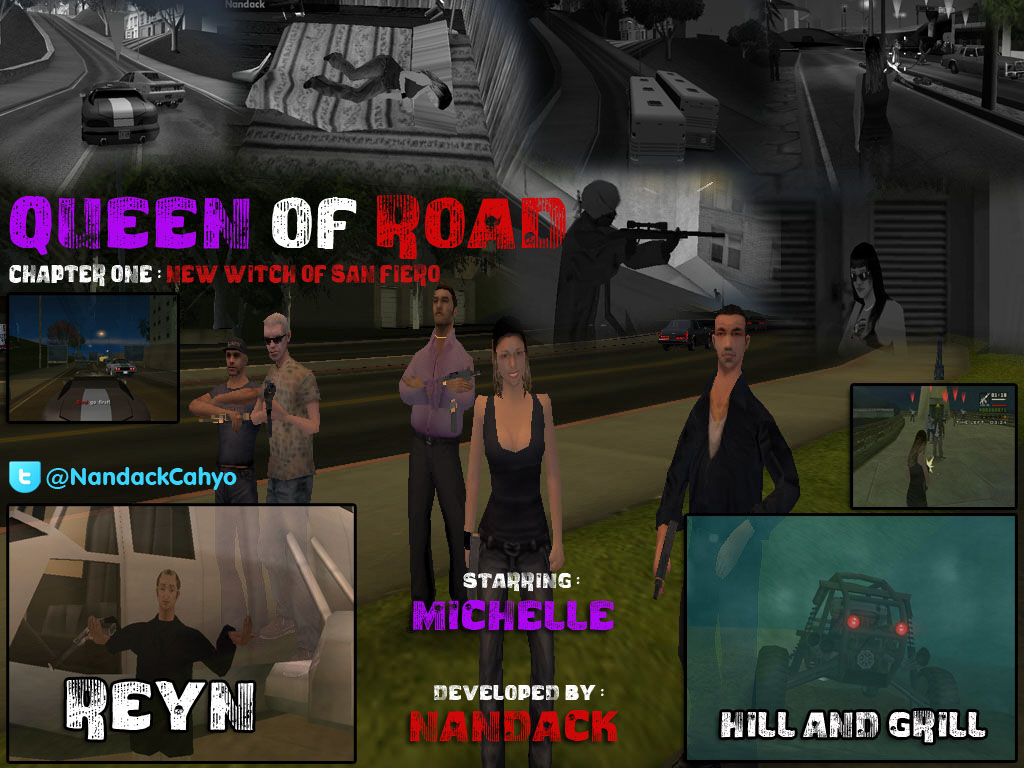 Link:
Download Here
19 Years old Young Man | Indonesian | Programmer | Web Developer | Musician | Magician | Comic | Gamer
GTAFORUMS:
nandack
MISSION PACK THE UNFORGIVEN SINS:
Storylines created:


The Guns Lady (not uploaded)

Queen of Road - Chapter 2

Do you see the textbox at the bottom page? Use it to give me feedbacks.
Information
| | |
| --- | --- |
| Membergroup | DYOM Designer |
| Location | Indonesia |
| Birthdate | 2 November 1995 |
| RespectList | Dutchy3010, PatrickW and DYOM Designer whoever they are. |
| Gtaforums.com Username | nandack |
nandack
Member Stats
Registered

Jul 12 '14

Last Login

Dec 24 '14

Missions made

19 Avg: 4.9

Trailers made

0

VideoTuts made

0

TextTuts made

2 Avg: 4.9

Comments made

85

Ratings made

10 Avg: 4.1
Mission List
| MissionName | Last Update | Rating | Views | Downloads | Comments |
| --- | --- | --- | --- | --- | --- |
| Queen of Road - Chapter 1 (Pack) | Jul 20 2014, 11:02 | 5 | 700 | 239 | 2 |
| QoR Chapter 1: Queen of Road (1) | Jul 20 2014, 18:32 | 5 | 578 | 1000 | 2 |
| QoR Chapter 1: Back to Race | Jul 20 2014, 19:05 | 5 | 594 | 1131 | 2 |
| Queen of Road - Chapter 1 (Pack) | Jul 21 2014, 02:18 | 5 | 1554 | 334 | 7 |
| Queen of Road 1 - Mission 2 | Jul 22 2014, 04:15 | 5 | 672 | 186 | 1 |
| Queen of Road 1 - Mission 3 | Jul 22 2014, 04:28 | 5 | 587 | 191 | 1 |
| Queen of Road 1 - Mission 4 | Jul 22 2014, 04:32 | 5 | 567 | 246 | 1 |
| Queen of Road 1 - Mission 5 | Jul 22 2014, 04:35 | 5 | 620 | 206 | 1 |
| Queen of Road 1 - Mission 6 | Jul 22 2014, 10:54 | 5 | 644 | 181 | 1 |
| Queen of Road 1 - Mission 7 (2m challeng | Jul 22 2014, 10:57 | 5 | 705 | 194 | 1 |
| Queen of Road 1 - Chapter 1 Final - Miss | Jul 22 2014, 13:38 | 5 | 633 | 226 | 1 |
| The Mad Cop | Jul 25 2014, 20:18 | 5 | 1138 | 1187 | 2 |
| Nandack: Wind of Change | Jul 26 2014, 18:55 | 5 | 930 | 1165 | 3 |
| Souls for Money | Jul 28 2014, 10:13 | 5 | 857 | 1046 | 0 |
| Nandack: World of Blood | Jul 30 2014, 04:54 | 5 | 922 | 254 | 1 |
| Nandack: Angry Mobs! | Jul 30 2014, 04:55 | 5 | 998 | 249 | 2 |
| The Unforgiven Sins 1 | Aug 03 2014, 06:05 | 5 | 836 | 288 | 1 |
| Clown and Claws | Aug 03 2014, 17:48 | 3 | 837 | 1124 | 0 |
| Nightlife Partner | Aug 03 2014, 17:48 | 5 | 1016 | 277 | 7 |
Text Tutorial List
Comments
Log in to add your own comment